To The Stars – Winner BrickCon 2009 Best Mosaic
Back home again after an awesome weekend in Seattle. Had a really good time, and more importantly, met and talked with many, many great people. Most of them were fellow enthusiasts, so there was a lot to talk about. I saw wonderful MOCS, things that I could only dream about creating. I'd post pics, but there are already a lot of great ones up on Flickr.
I'd start here. Not sure if you need to be a member to view them. If so, you should join.
The list of winners can be found here. But I would suggest looking at all of the pics, there were so many awesome works there.
At any rate, here is "To The Stars".
It's about 3.5 feet wide, by 5 feet tall. 11 colours, though it seems like more, especially in the barrel of the main rocket. It took about 50 hours to build, and 15 hours to drive to Seattle. Well worth every minute.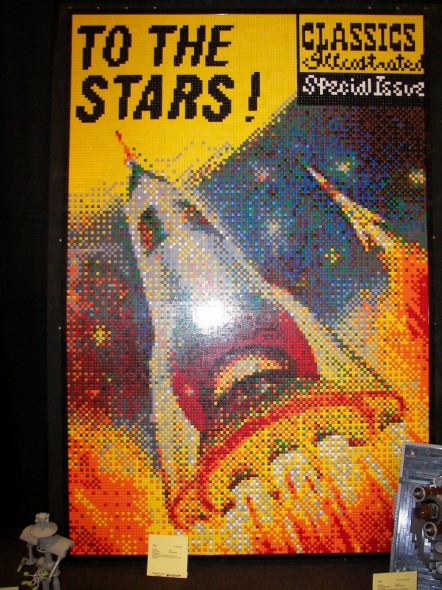 One Response to "To The Stars – Winner BrickCon 2009 Best Mosaic"