Back home again after an awesome weekend in Seattle. Had a really good time, and more importantly, met and talked with many, many great people. Most of them were fellow enthusiasts, so there was a lot to talk about. I saw wonderful MOCS, things that I could only dream about creating. I'd post pics, but there are already a lot of great ones up on Flickr.
I'd start here. Not sure if you need to be a member to view them. If so, you should join.
The list of winners can be found here. But I would suggest looking at all of the pics, there were so many awesome works there.
At any rate, here is "To The Stars".
It's about 3.5 feet wide, by 5 feet tall. 11 colours, though it seems like more, especially in the barrel of the main rocket. It took about 50 hours to build, and 15 hours to drive to Seattle. Well worth every minute.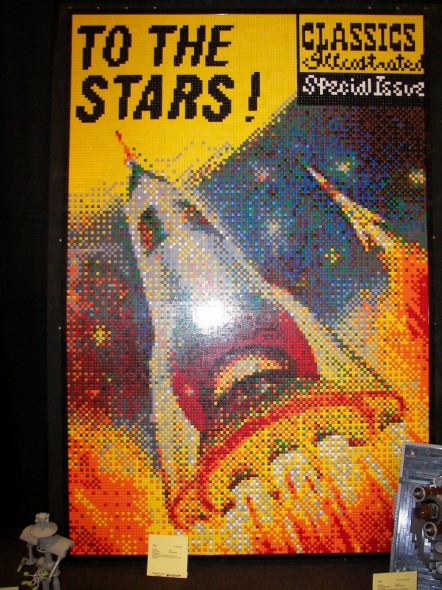 The following two tabs change content below.
Dave Ware
Dave Ware is a leading trainer/facilitator with an avid interest in the concept of "Play". He's also a Certified Lego Serious Play facilitator. Dave has 30 years of experience in improvisation with some of the leading minds in the field. Dave has been creating LEGO Mosaics since 2006. Over the last 9 years, he has created over 90 LEGO mosaics. Known for his pop culture and celebrity mosaics, Dave has built pieces for Academy Award winners, television personalities, and cultural icons. Peter Dinklage called Dave's work "Brilliant". Richard Taylor (CEO of Weta Workshop) called his work "Exquisite".
Latest posts by Dave Ware (see all)
Tagged: Brickcon Mosaic, Brickwares, Dave Ware, Seattle Lego Mosaic, To The Stars