Posts Tagged 'War of the Worlds Lego'
2010 was a very busy year for Brickwares. I built 4 large mosaics, as well as some smaller pieces, had a few commissions, joined a LUG, won a number of awards, and my LEGO world expanded as I met and networked with a number of luminaries within the hobby.
In January, I entered the Silver Springs community show, an annual show in Calgary. The highlights of the show for me were meeting up with a number of the folks from SALUG (The Southern Alberta Lego User Group), and a second place ribbon for the "Rudolph and Hermey" mosaic with its light up nose.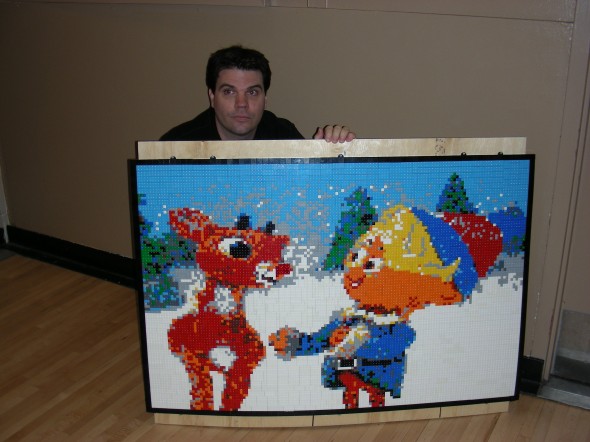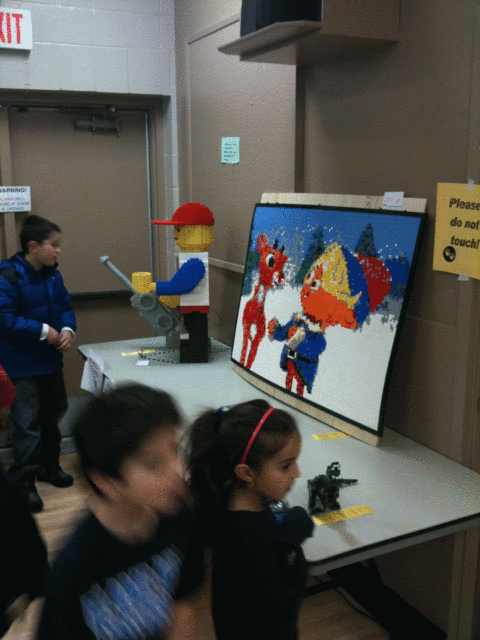 April brought about another local LEGO show, at the Ogden Millican Community Centre, for which I built a mosaic of my youngest son, Max. It turned out very well, and took first prize at the show. I also built a small microscale city, which won 3rd prize in it's group.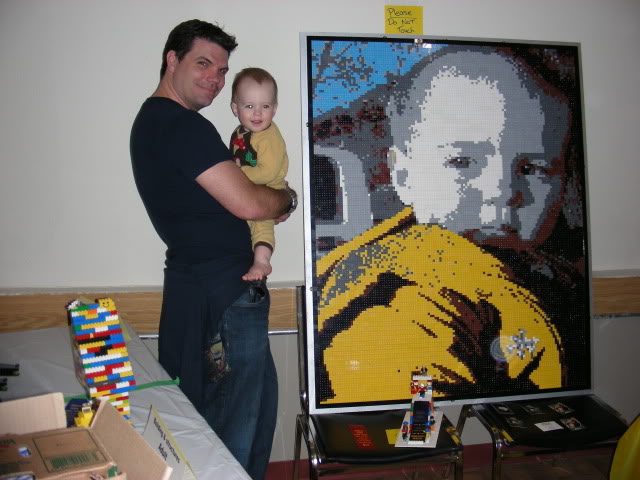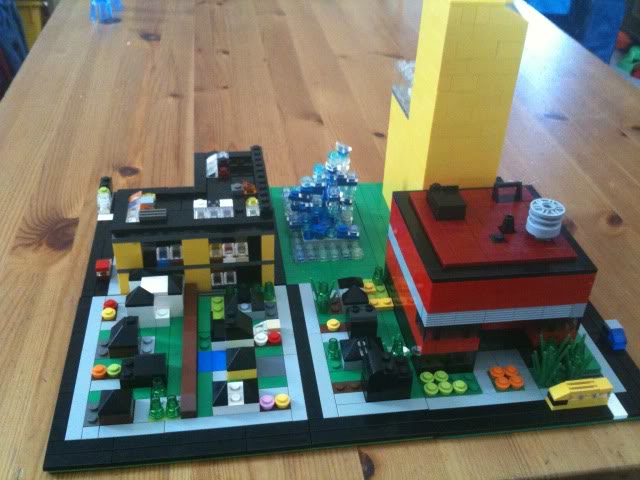 Hot on the heels of that show, we discovered that Calgary had been chosen for the first LEGO store in Canada. Very exciting stuff! As part of the build-up to the grand opening, Chinook Centre was interested in displaying some local LEGO pieces from SALUG. During one of our meetings, I was lucky enough to meet Robin Sather, an incredibly talented builder from the West Coast. I decided to build a replica of the 2010 Stampede poster. It was the largest piece I've attempted thus far, and on a serious deadline. Many late nights and rush bricklink orders later, I had something to show.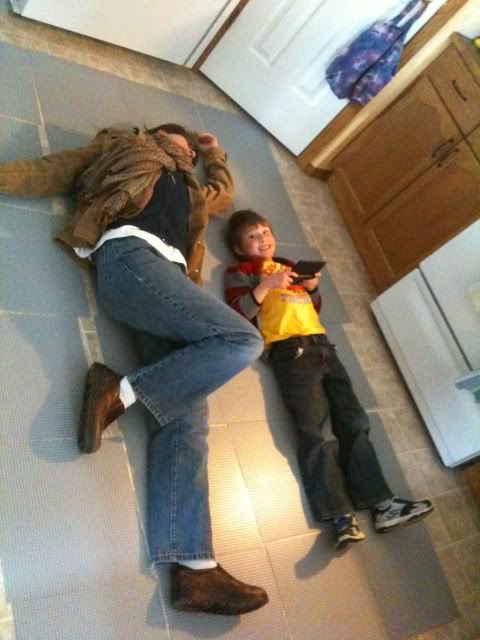 Big enough for my family to lay on!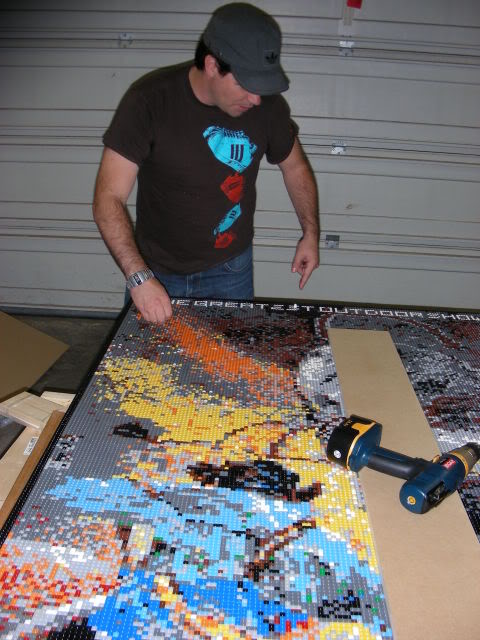 In the garage, attaching things..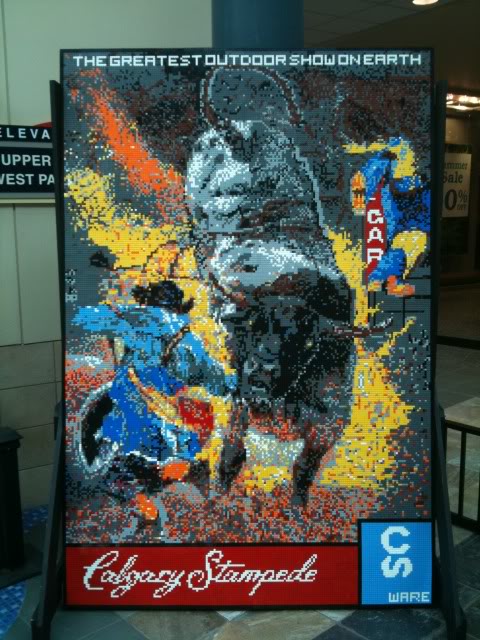 The finished piece!
The Stampede mosaic received a lot of attention, even from the president of the Stampede Board himself. While that was flattering, the next event brought the highest praise of all! I was lucky enough to be able to help with the "Build-A-Buzz" event for the store opening, and met Dan Steininger, a Master Builder with The LEGO Group. He was very impressed with the Stampede mosaic, which blew my mind. Dan let myself and Jen Wagner put the finishing touches on Buzz. It was such a great experience, and I met a lot of great people, some of whom would keep popping up during the year, like Ed from the Anaheim store!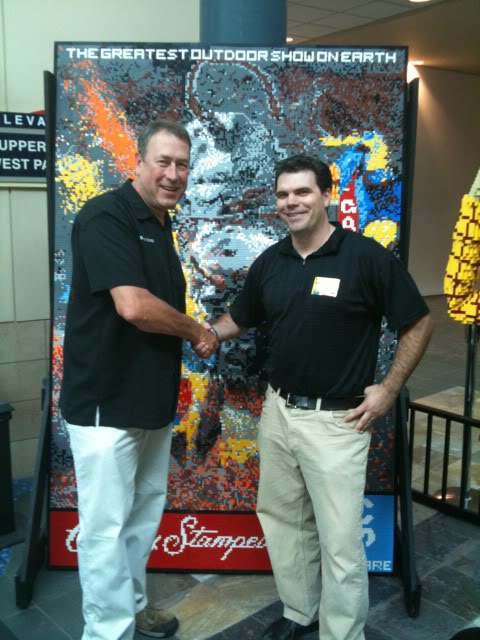 Dave and Dan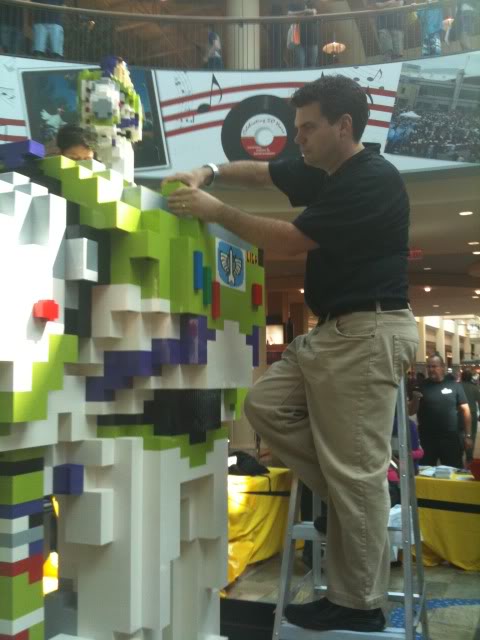 I also volunteered for the Stampede Breakfast, helping with the Minifig builds, which was a blast, and allowed me to be near a LOT of minifig parts…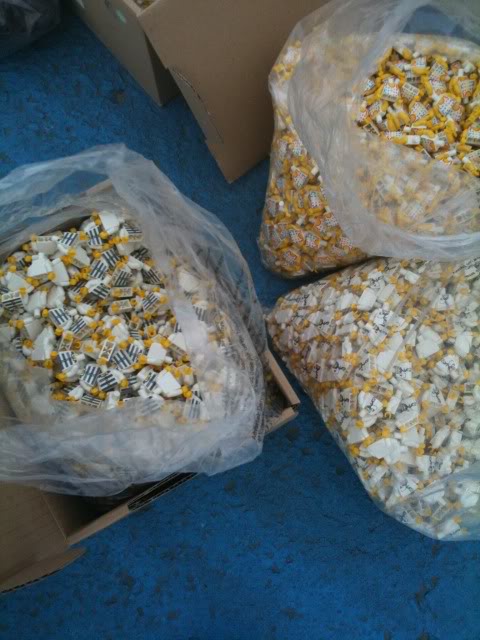 So many torsos!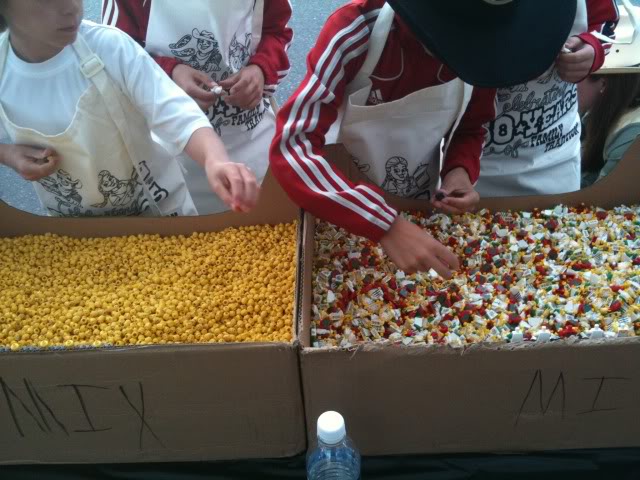 Minifig parts galore.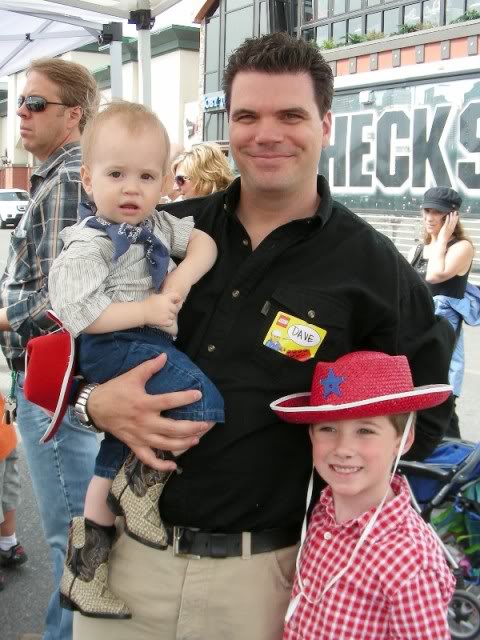 Dave and the little Brickwares.
After the summer was done, and the store in full swing, it was time to turn my attention to BrickCon and Seattle. This is by far my favorite LEGO event (at least so far!) and I was excited to return. I even remembered my passport this year! The show was even bigger than the year before, and I had a great time, meeting up with some old friends, and making a lot of new ones. Some of the highlights were meeting people like Mariann Asanuma and Alex Eylar, whose work I admire greatly, helping to judge the train category, and hanging out with Dave and Stacey Sterling, Tom Rafert, Iain Heath and John Langrish until the wee hours. Oh, and winning Best Large Mosaic was pretty awesome too. "War of the Worlds" was build specifically for the show, and was a lot of fun to make, with bright colors and some fun laser work! Michael Giacchino, Academy Award winning composer and very awesome lego guy tracked me down to tell me how much he liked the piece, which made my brain asplode!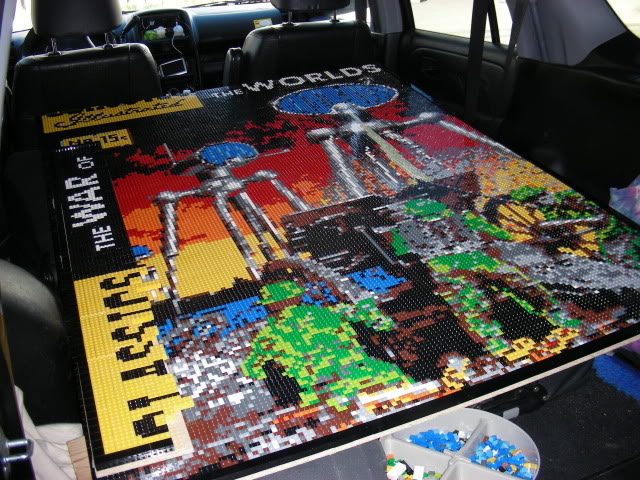 Getting ready to roll!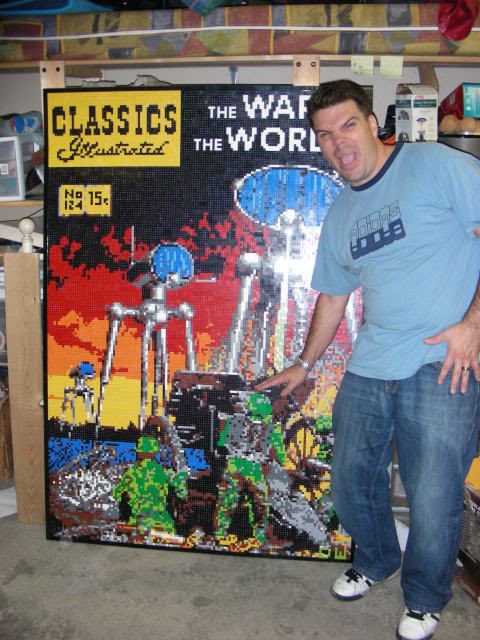 Lasers are dangerous!
After I returned from Seattle, "War of the Worlds" went up on display at Phoenix Comics on 16th ave in Calgary, where it currently resides, until I figure out what to make next!
In late October, I was contacted by an old friend from high school, and commissioned to build a mosaic for his wife's birthday. After looking at the picture for a bit, it struck me that I wanted to make a picture of her eyes, and style it after the old Nagel pieces from the 90′s (you might remember his cover for Duran Duran's "Rio" album). It was a quick but fun build, and as a bonus, I received a picture of the piece hanging in their home.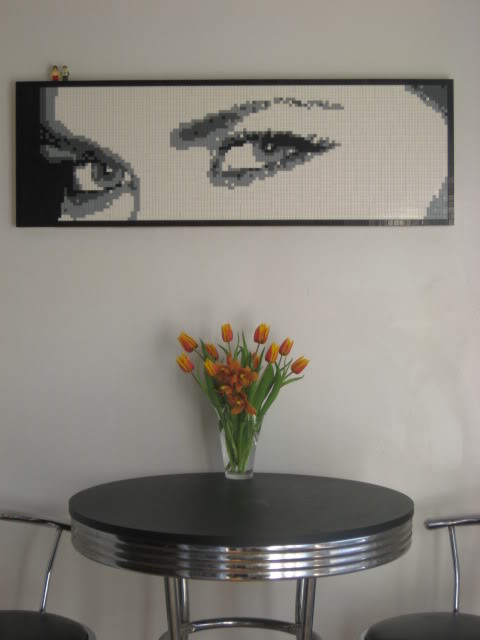 After I finished "Eyes", I started toying with something for an upcoming project that's still in the planning phases. Without giving too much away, I built a small prototype (not of the final image) to show how the concept would work, and my good friend Tony liked it so much it now adorns his baby's room.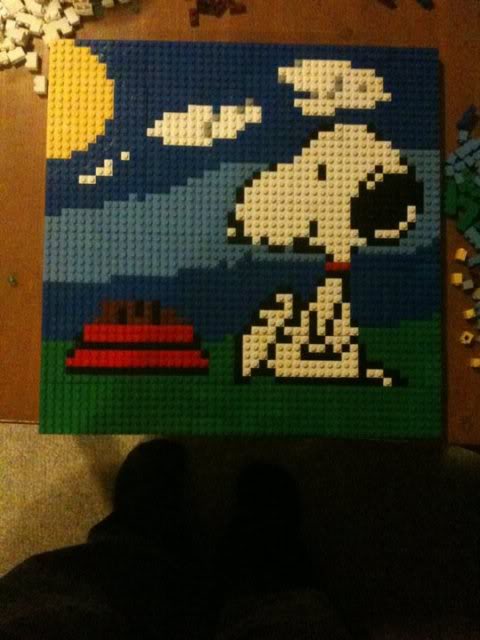 With Christmas fast approaching, I didn't have time to build much more, but I've made a few microscale things for the next Silver Springs show, and, since time prevents a new mosaic before then, I'll likely bring War of the Worlds to that show, though I don't like bringing "old" pieces to shows…
At any rate, I can't imagine what 2011 holds. If it's anywhere as amazing as 2010 was, I better hold on to my hat! Have a great new year and we'll see you back here soon.
I debuted my latest piece at Seattle's BrickCon this weekend: "War of the Worlds" (More on the mosaic in another article to come). For the second year in a row, I was awarded the "Best Mosaic" trophy, and even received some votes for "Best in Show". Seattle and Brickwares seem to get along very well!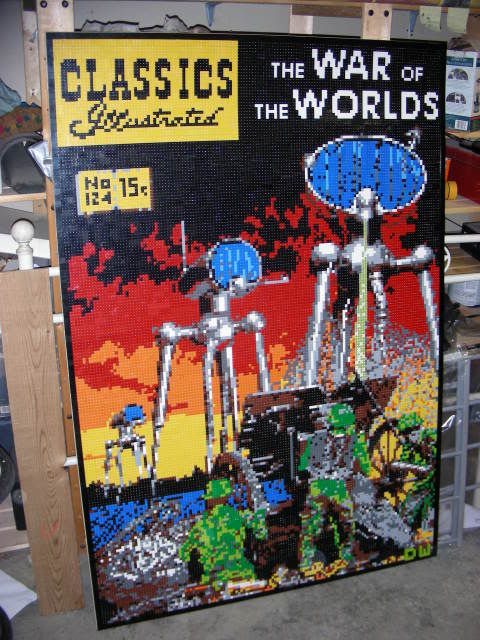 Lego Mosaic of War of The Worlds – BrickCon 2010 Best Large Mosaic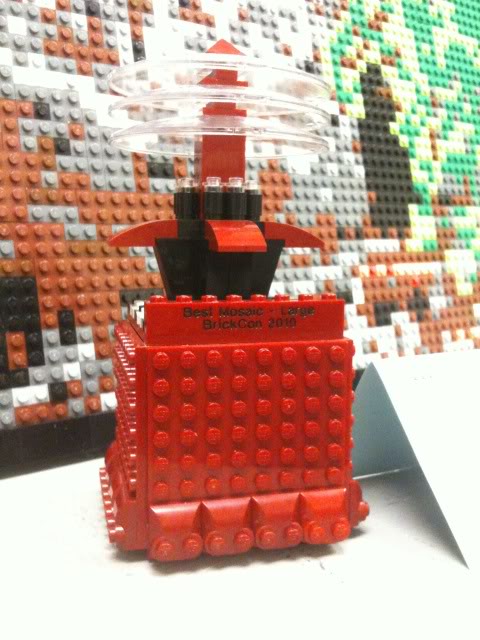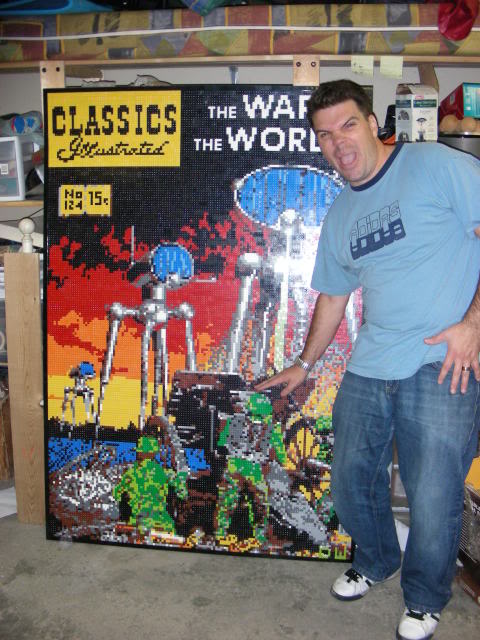 This year's BrickCon was even bigger than last year's, with almost 11,000 people checking out all of the great creations by 400 builders. I had a great, met some new friends, and learned some new building techniques. If you're anywhere near Seattle on the first weekend in October 2011, I highly recommend you visit.
I'll put some pictures up of some of the amazing creations my fellow builders came up with in the next couple of days.