Surf – 2012
Occasionally, I stray away from the mosaics and work on things that have a 3rd dimension to them. My second love Lego-wise is modular city buildings, in the style of the Cafe Corner, Green Grocer, etc. I really like the detail that is possible within a small space, and the modular nature makes for a nice display of a street etc.
One of my other loves is surfing and surf culture. Just last year I started learning to surf, and while I'm still quite terrible at it, I really enjoy it. One night last year I had a dream about a building on the beach, with a surf shop on one side, and a coffee shop on the other. Above those were some small apartments. when I woke up, and realized this building didn't actually exist, I set out to create it. And a while later, it did.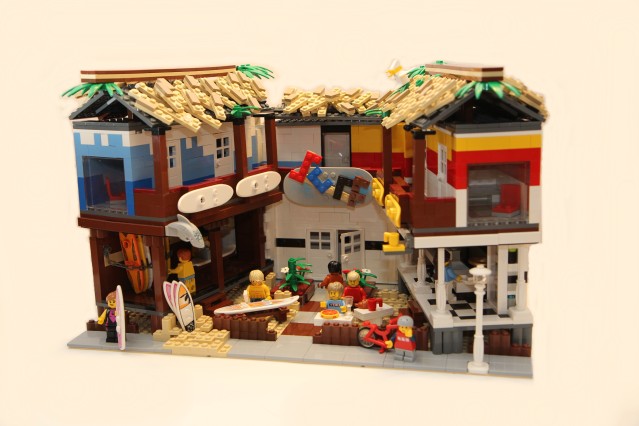 The trickiest things in this building for me were the angled "wings". I'm still learning the "vocabulary" of this style of building, so there was some building and rebuilding of things, which I suspect is how one learns to do this. The roof was particularly tricky and fragile. I'm guess some of my City building friends could immediately find ways to make it less so, but it is what it is.
This piece just recently came home from the Calgary Lego Store, where it was in the display window for a month. I've built a few other modulars, but this one is my favorite by far. I have an idea brewing that involves surfing, lego, and rocket ships, but until it becomes a reality, I'll keep mum about it.