As part of Calgary Expo 2013, I was invited to build and display a piece for the "Evening With the Lannisters" event, featuring Peter Dinklage and Lena Headay. I chose the Lannister Crest (from Game of Thrones) as the subject, and decided to add a raised image effect, along with the dark red background. I was pleased with the results, and plan to use the level effect more often in future.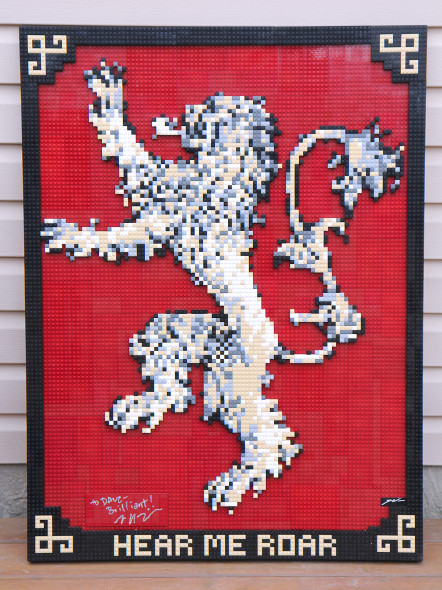 Peter Dinklage was kind enough to sign it for me. One word "Brilliant". High praise indeed from a brilliant Emmy winner.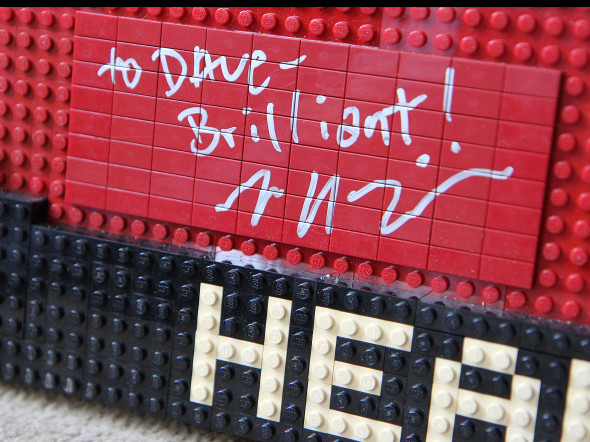 The following two tabs change content below.
Dave Ware
Dave Ware is a leading trainer/facilitator with an avid interest in the concept of "Play". He's also a Certified Lego Serious Play facilitator. Dave has 30 years of experience in improvisation with some of the leading minds in the field. Dave has been creating LEGO Mosaics since 2006. Over the last 9 years, he has created over 90 LEGO mosaics. Known for his pop culture and celebrity mosaics, Dave has built pieces for Academy Award winners, television personalities, and cultural icons. Peter Dinklage called Dave's work "Brilliant". Richard Taylor (CEO of Weta Workshop) called his work "Exquisite".
Latest posts by Dave Ware (see all)
Tagged: Brickwares, Calgary Lego, Game of Thrones, Lannister Crest, Lego Mosaic, Peter Dinklage