Posts Tagged 'Mosaic'
Recently, a good friend from high school emailed me to ask if I could make him a mosaic from a picture of his wife. Over the course of a few days, we messaged back and forth, determining the best picture to use, etc. One look at the picture he sent me, and I knew exactly what to do. It was all about the eyes.

I was able to start on the piece straight away, and finished up in due course. There was need for a bit of hurry, as the piece was meant to be a birthday present for the lady in question.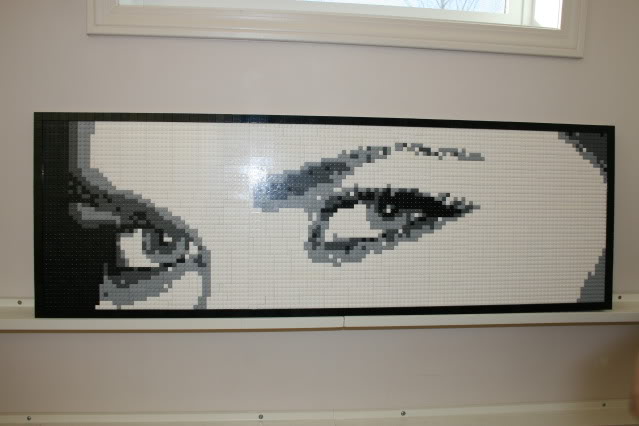 Max was kind enough to add some scale for me.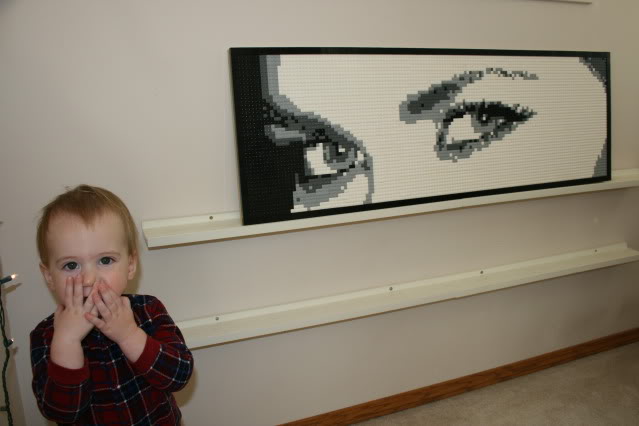 And I posed with it as well. It's rare that I build something I can pick up without causing back pain.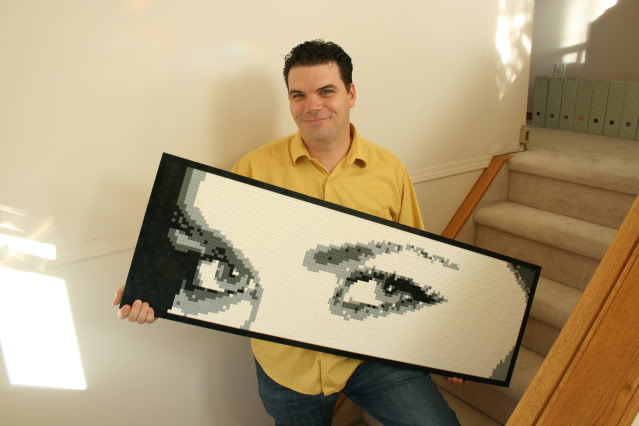 As an added bonus, I sent a couple of minifigs to them. I think I captured her better than him, though I'll leave that up to them and their friends to judge. (Note: Just noticed that her head is on backwards. Oops.)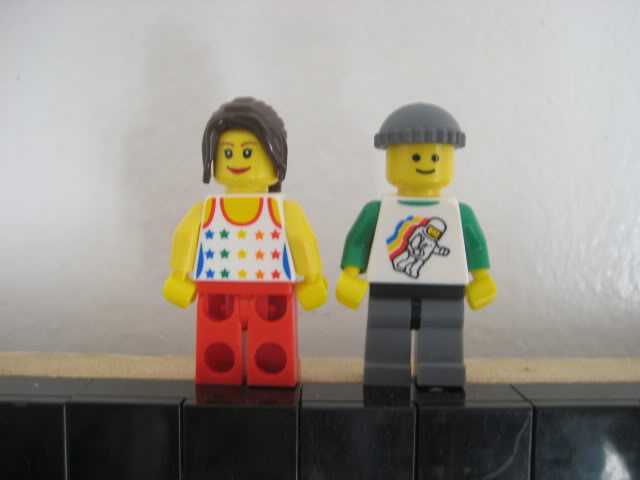 At one point, I received an email from him telling me to use an alternate email address, and that he was deleting all prior communications, as he was concerned that she would uncover the surprise.
Another added bonus, he was kind enough to send pictures back of the piece hanging in their home. I'm not sure if it's just my bad luck, or if this is common, but every the owners of every commissioned piece I've done in the past have hemmed and hawed, but none have sent me back photos. So yay for them.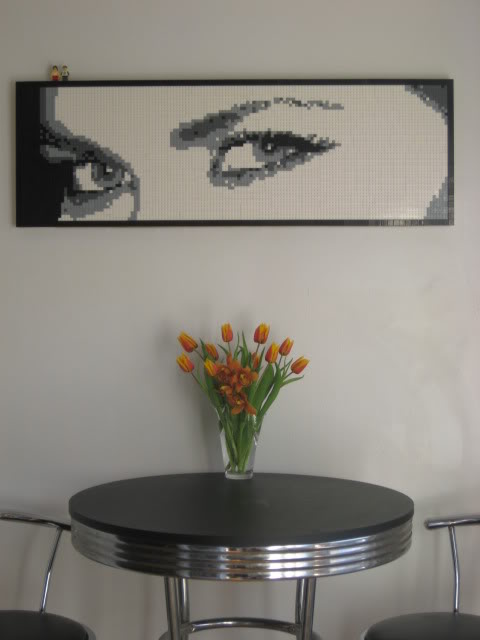 It's getting close to Christmas now. Wanna know what to get that person who has everything? How about a portrait made in LEGO? email me at dave@brickwares.com if you're interested, but do it soon, or time might run out on us!
(This entry is part of a look at early mosaics I've made).
The Finny mosaic was the first one where I really started to think that some very cool things were possible. It was sizable enough, and well defined so that the subject was very clear. I used a different diffusion technique to make the image, one that I didn't go back to. Too "pixely" for my taste. Also, for whatever reason, the digitization added some shades of red, green and blue. I decided on a whim to leave these in. (You'll see in future mosaics that this sort of decision making is fairly common.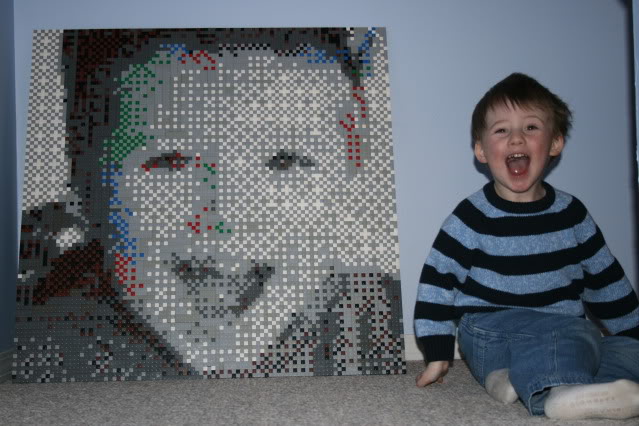 This is my favorite picture of this mosaic, as the subject was willing to recreate the pose live on the spot. This also started a trend of Finny appearing in at least one picture I take of each work. I use him as a gauge of scale, though I still find that it's difficult to truly understand the size unless you see them in person. I've often had people look at pictures of a mosaic, then later still be floored at the size.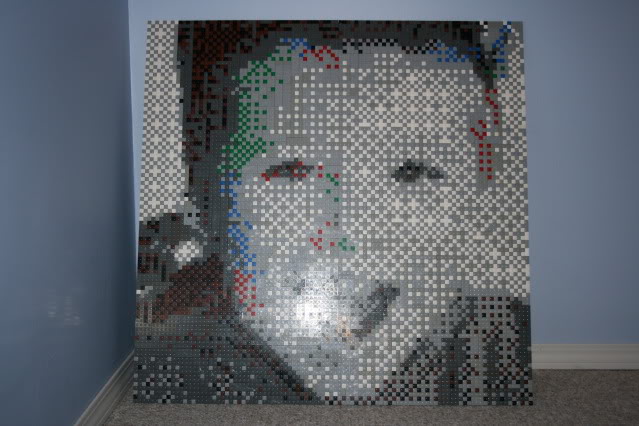 In the close up picture, you can see the "cross hatching" used to make up the image. I'm not a big fan of this style, and haven't done a lot of pieces using it. It just seems a bit too pixelated to me.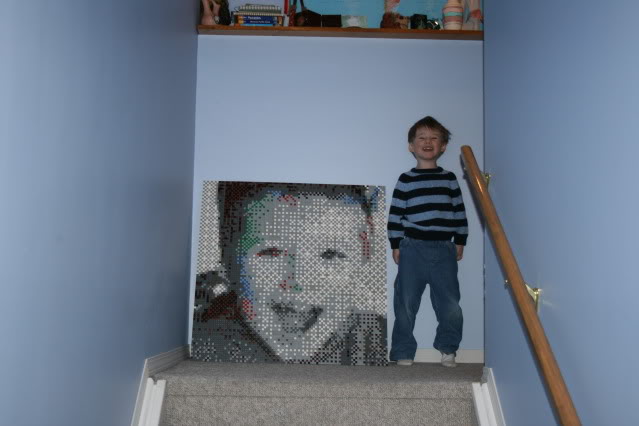 Often, the further away you are, the more mosaics make sense. Especially smaller ones. You'll often see single panel (one baseplate) mosaics on the web where the photo is taken from across the room. There's a reason for that.
So there you have it. The mosaic that started a string of mostly grayscale mosaics. I haven't done a mosaic of Finny since, maybe I'll have to make a Finny and Max picture soon.
Before I get around to posting pics of the newest mosaic, I realized that I have forgotten to post an article about the LAST one.
For the Odgen-Millican LEGO show in Calgary this spring, I decided to build a mosaic of my younger son Max. I've made 2 of Finny in the past, so it seemed only fair…
The mosaic placed 1st in its category, and another smaller work I built placed 3rd.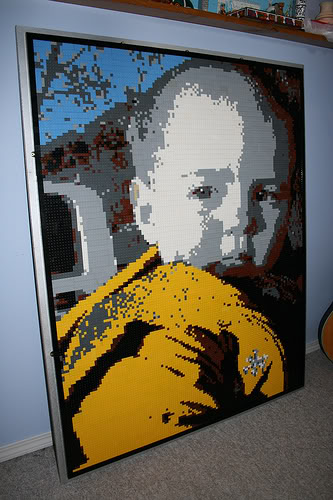 I didn't have enough Red on hand when I started, so his jacket quickly become Yellow. There were some struggles with getting this one right, I had to make a number of adjustments in the upper left portion of it, but all in all, it turned out ok…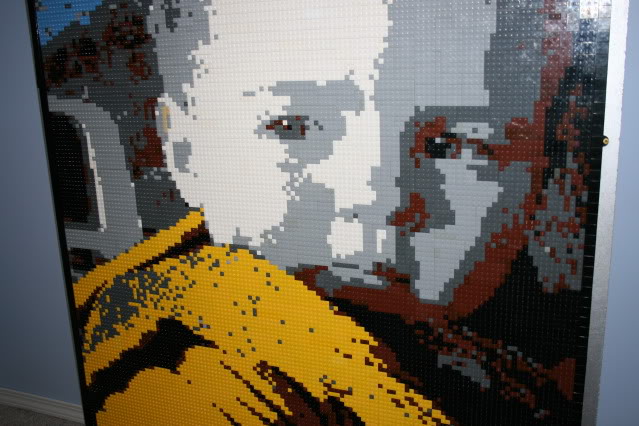 A close up of Max.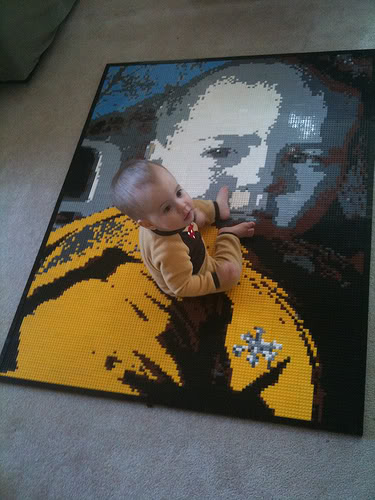 People never really get a good appreciation for the size of the mosaics. This one maybe skews things to make it look bigger than it is, due to the camera angle…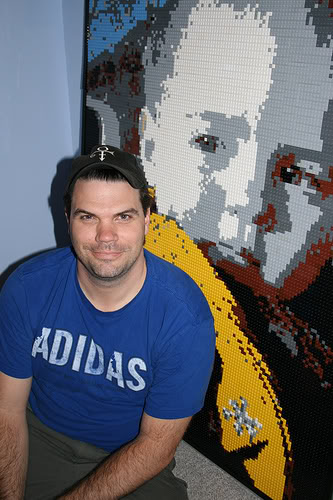 And because I rarely take pictures with my mosaics, thought I'd throw this one in as well.
Up next, the Stampede Mosaic, which (knock wood) should be up for display at Chinook Centre by Wednesday.