Every commissioned piece is a brand new challenge, and this piece was no different. The biggest problem to solve was adding a word bubble with text. I opted to build the word bubble on top of the mosaic itself, and using both plates and bricks, created the text. To mount the word bubble, I surrounded it with "headlight bricks" which attach both below and to the side.
The piece is based on Roy Lichtenstein's "Drowning Girl" which was itself based on a old DC romance comic book. This one was a pleasure to work on, and hopefully the person whom it's for gets a kick out of it. If you're looking for a custom piece of your own, check out our Commissions page.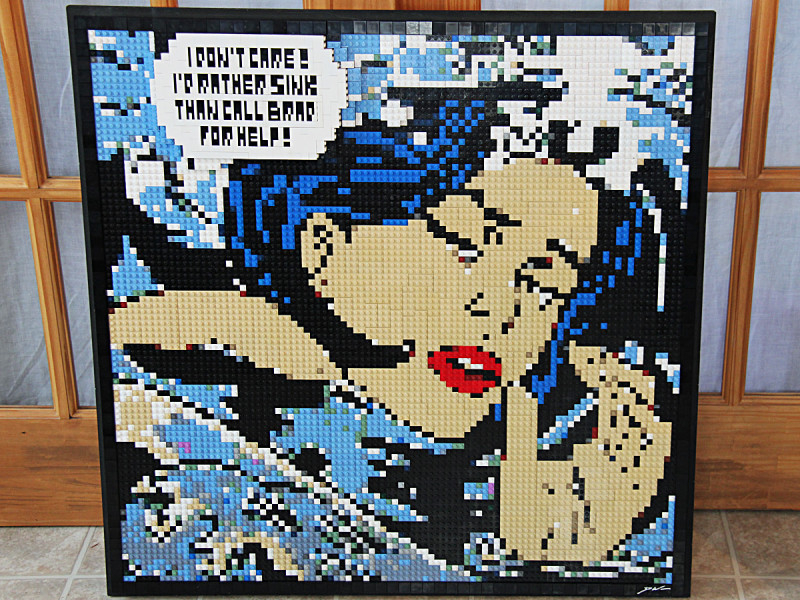 The following two tabs change content below.
Dave Ware
Dave Ware is a leading trainer/facilitator with an avid interest in the concept of "Play". He's also a Certified Lego Serious Play facilitator. Dave has 30 years of experience in improvisation with some of the leading minds in the field. Dave has been creating LEGO Mosaics since 2006. Over the last 9 years, he has created over 90 LEGO mosaics. Known for his pop culture and celebrity mosaics, Dave has built pieces for Academy Award winners, television personalities, and cultural icons. Peter Dinklage called Dave's work "Brilliant". Richard Taylor (CEO of Weta Workshop) called his work "Exquisite".
Latest posts by Dave Ware (see all)
Tagged: Brickwares, calgary, Dave Ware, drowning girl, lego, Lego art, Mosaic, roy lichtenstein