I've always been a fan of both Batman and Superman, so naturally I couldn't resist the chance to put them both in a mosaic. This one wa a bit different in that I used a lot of transparent bricks to add to the effect. Using the "smoke" color for Batman's suit made Superman's arm pop out, as though it were 3D. Pretty cool. It's featured in the March 2016 issue of Blocks Magazine.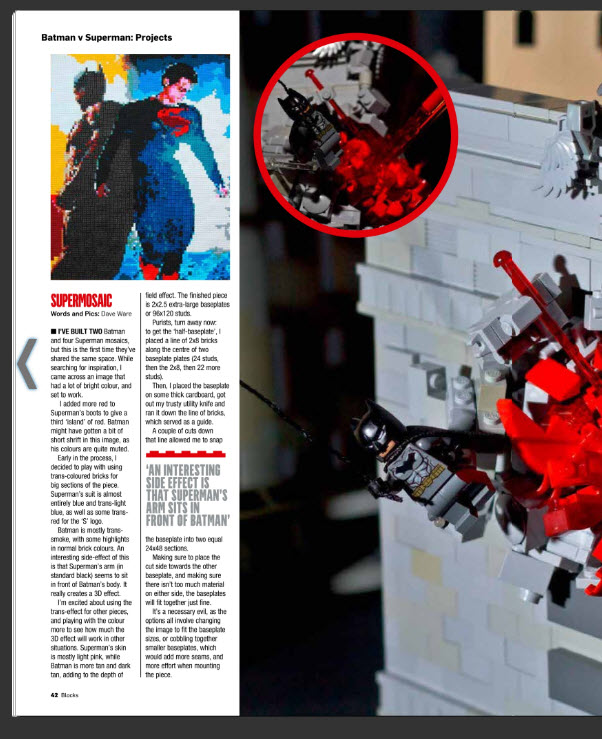 The following two tabs change content below.
Dave Ware
Dave Ware is a leading trainer/facilitator with an avid interest in the concept of "Play". He's also a Certified Lego Serious Play facilitator. Dave has 30 years of experience in improvisation with some of the leading minds in the field. Dave has been creating LEGO Mosaics since 2006. Over the last 9 years, he has created over 90 LEGO mosaics. Known for his pop culture and celebrity mosaics, Dave has built pieces for Academy Award winners, television personalities, and cultural icons. Peter Dinklage called Dave's work "Brilliant". Richard Taylor (CEO of Weta Workshop) called his work "Exquisite".
Latest posts by Dave Ware (see all)
Tagged: batman, BatmanvsSuperman, Brickwares, Dave Ware, lego, Mosaic, superman