Archive for June, 2010
CBC Calgary was kind enough to cover the visit of Stampede Board President Dr. David Chalack to the Stampede Mosaic I built. It was a real pleasure to meet Dr. Chalack, and to show him the piece. Enjoy.
The new Stampede Mosaic I made was a lot of work, and some of that work was in areas I hadn't anticipated. There were size issues from the start. First, the mosaic was 4 Xlarge baseplates wide by 6 high. Each of those baseplates is 15×15 inches, for a total of 5 feet by 7 feet. The first problem was getting enough brick on hand to cover that much real estate. I quickly ordered what I thought I needed from bricklink.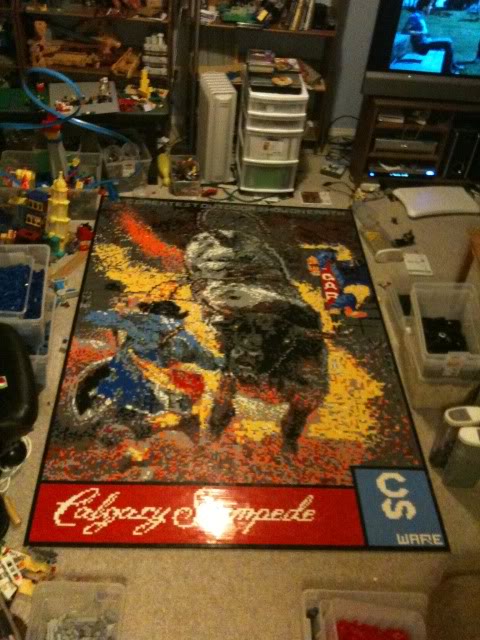 I worked with what I had on hand, trying to hit the target date. I called in my friend Josh, who assisted nobly by filling in the solid areas for me while I moved ahead. Once the new brick arrived, I spent some time sorting it, and finished the mosaic in my basement.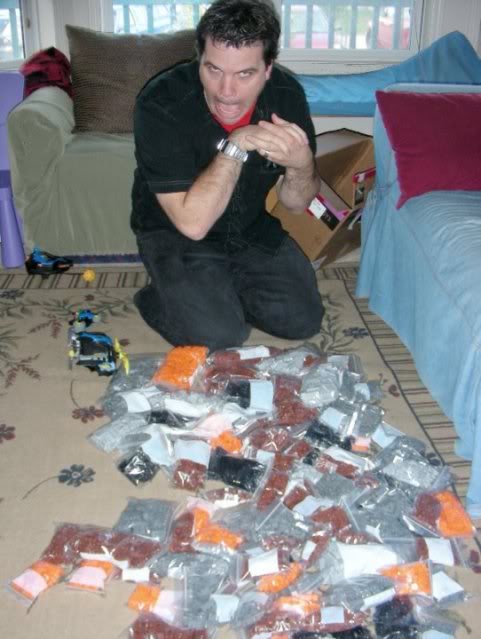 It would need to be backed on a board, and due to the size, it would need to be more than one, as I couldn't assemble it on site, and the board would need to be about 35 square feet. So I took it apart, and carried the baseplates out to the garage. It took two trips, as the plates themselves were heavy. Keep in mind that I use bricks, not plates.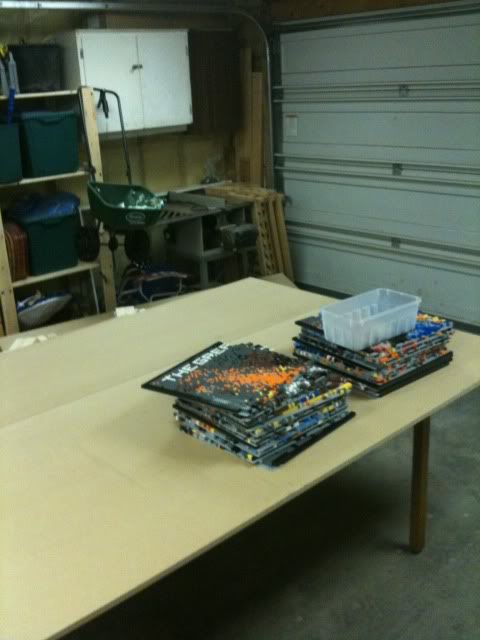 Once in the garage, I laid the mosaic on 1/2 inch MDF. I needed this thickness in order to ensure the weight of the mosaic wouldn't cause any bowing. I pulled 4 1×1 bricks from each individual baseplate (24 plates in all), drilled a hole through the plate into the MDF, and drove a screw into each.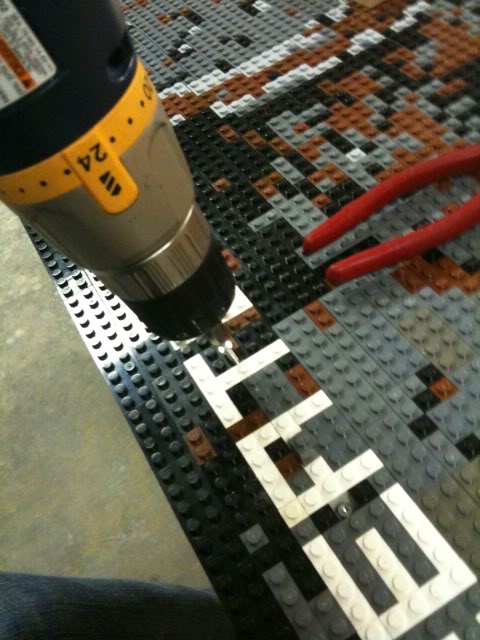 After that, I bored out the 1x1s slightly, so that they would sit over the screwheads.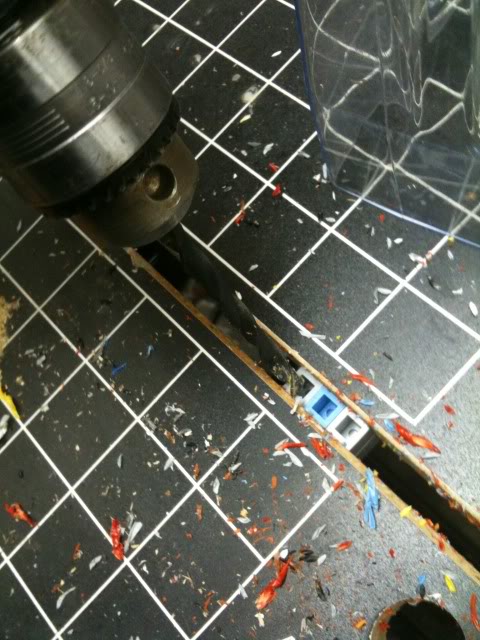 Once complete, I brought the mosaic down to the mall, where there were discussions about how to mount it. We settled on a free standing frame. My friend Ken Gardener is a master of all things built, and he was able to whip up a frame in no time at all. I helped by painting!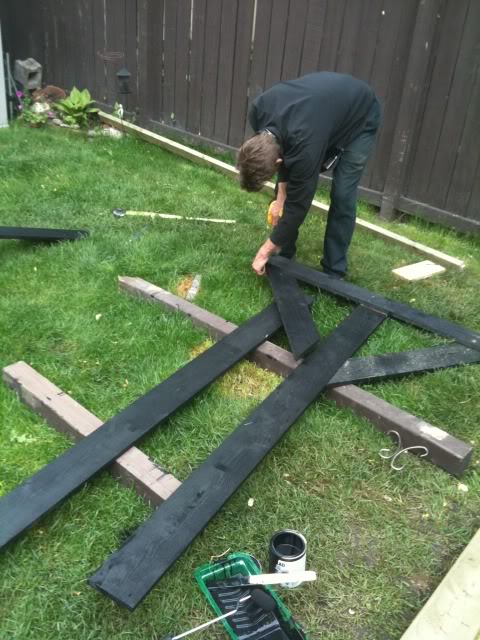 We then mounted the mosaic, secured the two halves together, attached a bit of wire to the back to secure it to the post, and stood back.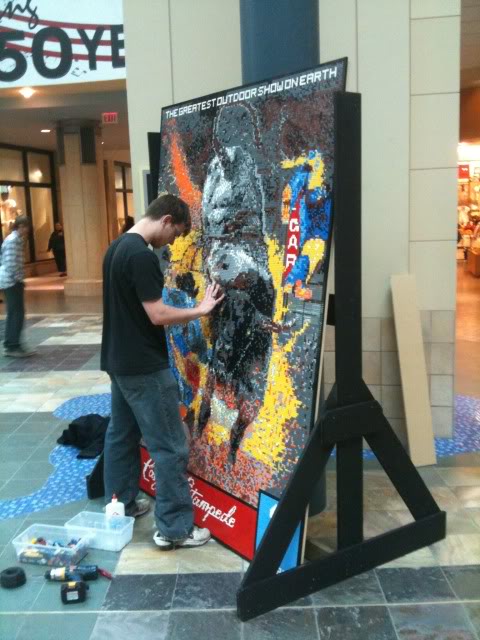 A flurry of activity occurred around us. The Chinook Centre staff were really helpful and they all came out for a look. A crowd gathered, and they began to add fencing in order to secure the pieces. Soon after, a LEGO provided Woody statue made its way out to join the mosaic.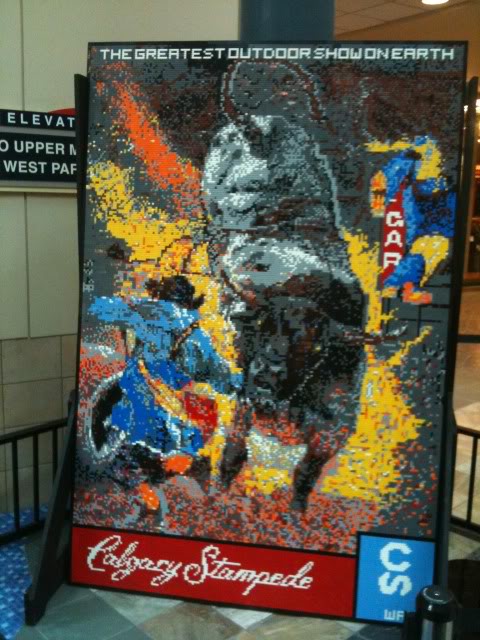 It will be on display in the Centre Court of Chinook Centre until the opening of the Calgary Lego Store, scheduled for mid July.

Before I get around to posting pics of the newest mosaic, I realized that I have forgotten to post an article about the LAST one.
For the Odgen-Millican LEGO show in Calgary this spring, I decided to build a mosaic of my younger son Max. I've made 2 of Finny in the past, so it seemed only fair…
The mosaic placed 1st in its category, and another smaller work I built placed 3rd.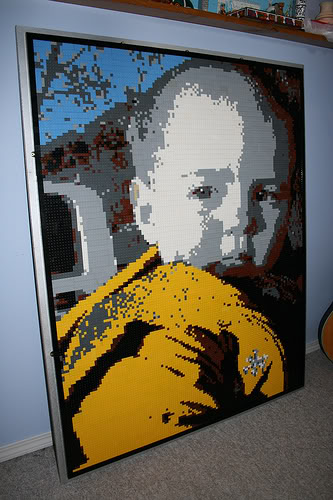 I didn't have enough Red on hand when I started, so his jacket quickly become Yellow. There were some struggles with getting this one right, I had to make a number of adjustments in the upper left portion of it, but all in all, it turned out ok…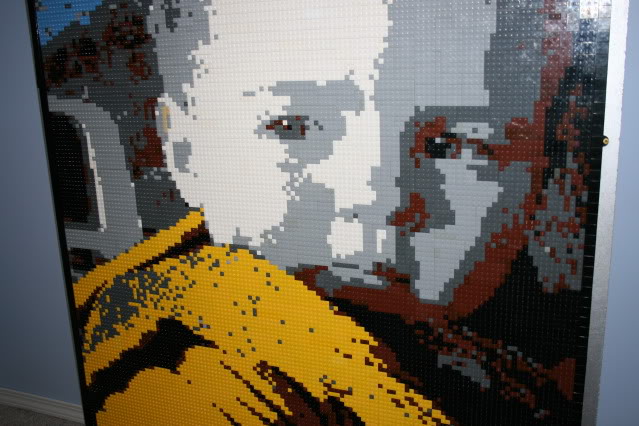 A close up of Max.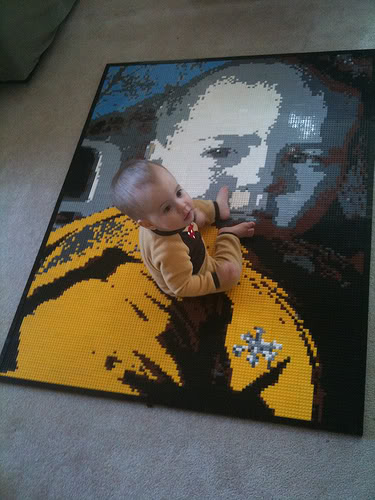 People never really get a good appreciation for the size of the mosaics. This one maybe skews things to make it look bigger than it is, due to the camera angle…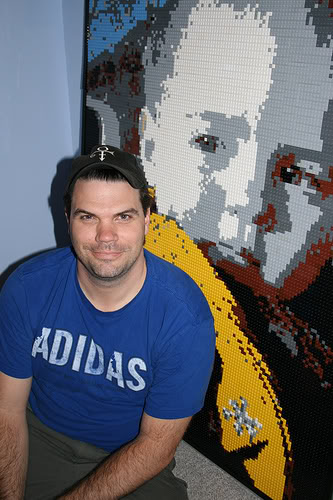 And because I rarely take pictures with my mosaics, thought I'd throw this one in as well.
Up next, the Stampede Mosaic, which (knock wood) should be up for display at Chinook Centre by Wednesday.